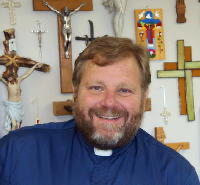 Greg Peters
Pastor
Hosanna is led by our Senior Pastor Rev. Greg Peters.
Pastor Greg was born and raised near the Great Lakes. He received a degree in Psychology and Social Work from Valparaiso University in 1975 before attending Christ Seminary in St. Louis.
Pastor Greg served congregations in Margarita and Balboa, Republic of Panama, as a foreign mission worker of the Lutheran Church Missouri Synod. He pastored at Nassau Lutheran Church in the Bahamas in the early 80's, and was later called to St. Veit Lutherische Kirche in Barnstorf, Germany, a 1000 year old, 7000 member congregation in Lower Saxony. More recently Greg served as Senior Pastor of Redeemer Lutheran Church and School in Columbus, Georgia, where he met his wife.
Pastor Greg and his wife came to Hosanna in March 1993 and have helped Hosanna become the thriving church it is today.
Rev. Greg Peters
Phone: 303.973.1706
Email: [email protected]